Vinyl floors are popular with many homeowners due to their durability, affordability, and easy maintenance. However, moving heavy appliances on vinyl floors can be a challenging task. The appliances can cause scratches, dents, or even tears on the vinyl surface without proper precautions. That's where appliance sliders come in handy. These specialized tools provide a smooth and safe way to move heavy appliances without damaging your vinyl floors. This article will explore the best appliance sliders for vinyl floors and provide useful tips for their installation and usage.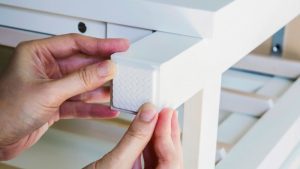 1. Introduction
Moving heavy appliances can be a daunting task, especially when you have vinyl floors. The weight and sharp edges of appliances can leave unsightly marks or even permanent damage on your beautiful vinyl flooring. Appliance sliders offer a practical solution by allowing you to glide heavy appliances effortlessly, preventing any potential harm to your floors. Let's delve into the importance of appliance sliders for vinyl floors and understand the key factors to consider when choosing the right ones.
2. Importance of Appliance Sliders for Vinyl Floors
I. Protecting your vinyl floors
Vinyl floors are susceptible to scratches and tears when exposed to the weight and friction caused by moving appliances. Appliance sliders act as a protective barrier, reducing the impact on your flooring and preserving its aesthetic appeal.
II. Ease of movement
Appliance sliders are designed to reduce friction, making moving heavy appliances across your vinyl floors easier. With these sliders, you can effortlessly glide your appliances without straining your back or causing damage to the flooring.
III. Versatility
Appliance sliders are useful for moving refrigerators and stoves, and other heavy furniture items such as washing machines, dryers, and dishwashers. They provide a versatile solution for any heavy item that needs to be moved across your vinyl floors.
3. Factors to Consider When Choosing Appliance Sliders
Before purchasing appliance sliders for your vinyl floors, it's essential to consider the following factors:
I. Weight capacity
Check the weight capacity of the sliders to ensure they can handle the weight of your appliances. Different sliders have varying weight limits, so choosing sliders that can support the specific appliances you intend to move is crucial.
II. Floor compatibility
Verify that the sliders are suitable for vinyl floors. Look for sliders designed for vinyl use to prevent any potential damage.
III. Slider material
Opt for sliders made of durable materials such as high-density plastic or rubber. These materials provide both strength and smooth gliding action, ensuring the safety of your vinyl floors.
IV. Size and shape
Consider the size and shape of the appliance sliders, as they should securely fit under the feet or corners of your appliances. Too small sliders may not distribute the weight evenly, while oversized sliders may be difficult to maneuver.
V. User reviews
Read reviews from other customers to gauge the performance and reliability of the appliance sliders you are considering. Genuine user feedback can provide valuable insights into the effectiveness and durability of the product.
4. Top 6 Best Appliance Sliders for Vinyl Floors Reviews
I. Furniture Sliders X-PROTECTOR 16 PCS
X-Protector provides a solution for those who are tired of constantly having to repair their hardwood and laminate floors due to the pressure of heavy furniture. They offer heavy-duty felt sliders that are ideal for any type of hard floor such as hardwood, linoleum, tile, etc. For carpeted floors, they offer plastic furniture movers. With a diameter of 4 3/4″, their sliders are large enough to be effective with any home or office furniture, even the heaviest of items such as sofas, beds, and cabinets. 
Using X-Protector furniture sliders is simple – just place them under your furniture and you will be able to move it quickly and easily without worrying about damaging your floors. Their sliders are made for long service, using premium materials such as solid felt, durable plastic, and durable rubber foam. These sliders are also reusable, with the foam securely gripping furniture for a long-lasting hold. 
X-Protector provides high-quality products to protect your furniture and floors. They use the latest technology and are committed to excellence to deliver only the best products. Their products are available in a wide range of types, thicknesses, sizes, shapes, and colors, so you can find the perfect solution for your needs. 
By choosing X-Protector furniture sliders, you can easily move any furniture or items in your home without damaging your floors. These sliders are made to provide the best protection for your floors, so you can focus on enjoying your beautiful home. 
a. Item Specifications
8 Furniture sliders for carpet & 8 felt sliders for hard floors

 

Ideal diameter of 3 1/2″ for best weight distribution and protection against scratches

 

Made of solid felt, durable plastic, and premium rubber foam

 

Reusable and guaranteed customer satisfaction

 
II. Slipstick CB680 50mm (2 Inch) Floor Protecting
Are you tired of rough and noisy plastic wheels on your office chairs? Do you want to protect your beautiful floors from scratches and damage? Look no further because the future of office wheels is here. Introducing the safe rubber casters, perfect as a set of replacement caster wheels for home or office chairs. 
These casters provide smooth, quiet rolling and full swivel action, making your office chairs more comfortable and easier to move. With a black and gray design, they can easily match and blend with any decor. Each set of 5 casters can hold a maximum weight of 330 pounds, with each individual wheel being able to hold 66 pounds. 
The casters have a standard size 7/16″ (11mm) diameter stem and a stem length of 7/8″ (22mm). However, they do not fit IKEA office chairs as they require wheels with a smaller 10 mm (about 0.39 in) stem diameter. These casters are perfect for both home and office use, making your chairs more functional and aesthetically pleasing. 
It is important to note that for proper floor protection, it is crucial to keep your floors clean and free of debris such as dirt, sand, or anything that can damage the floor surface if rolled over. 
In conclusion, the safe rubber casters are the perfect solution for anyone looking for a comfortable, quiet, and protective alternative to traditional plastic wheels. These casters will give your chairs a smooth and quiet roll, while also protecting your floors from scratches and damage. So why wait? Get yourself a set today! 
b. Item Specifications
2″ (50 mm) twin caster rubber wheels

 

Standard 7/16-inch (11mm) diameter x 3/4-inch (20 mm) length stem (not compatible with 10mm (about 0.39 in) stem chairs)

 

Protects hard floor surfaces like hardwood, laminate, tile, slate, etc.

 

Perfect replacement for chairs with noisy, rough plastic wheels

 

5-year warranty against premature wear or defects

 

Each wheel is rated to hold 66 lbs. (30 kg)

 

The 5-caster set can hold a total of 330 lbs. (chair and rider)

 

Ideal for home or office use

 

An affordable option for floor protection

 

Premium lifetime protection option: Slipstick model CB690

 
III. Slipstick Universal Non-Slip Rubber Protector Pads (Set of 4), Brown, CB755 
 If you are looking for an easy and affordable way to protect your floors from the damage caused by furniture legs, bedposts, and other items, look no further. The super grip pads from [Brand Name] are the perfect solution for you. Made from a specially designed non-marking solid rubber, these pads are designed to provide a heavy-duty, non-skid hold while also preventing any vibration or movement. 
The secret to their effectiveness lies in the special rubber compound and traction treads on the bottom of the protector, which keep furniture legs in place and steady. Measuring only 1/8 inch thick and available in a medium brown color, these pads are invisible under your furniture, so you will not have to deal with unsightly oversized floor pads bulging out. 
So, if you are tired of dealing with the harmful effects of rough plastic glides or other items scratching or damaging your floors, give the super grip pads from [Brand Name] a try. They are a simple and foolproof solution that will keep your floors looking great for years to come. And, best of all, they are an affordable option for anyone looking to protect their floors. 
c. Item Specifications
Universal protection for hard surfaces protects floors and counters from furniture, décor, appliances, and more

 

Heavy-duty, non-skid grip prevents sliding and reduces vibration and noise

 

Ribbed rubber bottom with traction treads for added stability

 

4 round, medium brown pads (can be trimmed to fit) measuring 3 inches in diameter, with a 2-3/4 inch inside lip holding area, and 1/8-inch thickness

 

Invisible under furniture, no more unsightly bulging floor pads.

 
IV. SuperSliders 4703395N Reusable Felt Furniture Movers for Hardwood Floors (4 Pieces) 
 Large Super Sliders are a great solution for protecting your floors and making it easier to move large furniture items. Made from durable rubber foam, these sliders create a secure grip on your furniture and hold it in place, even if you move it multiple times. The heavy-duty felt design is perfect for sliding heavy items across hardwood surfaces in your home, making it easy to rearrange your furniture without worrying about scratching the floors. 
The felt bottom on the sliders allows for easy movement of your furniture, even on carpeted surfaces or rugs. This sleek and smooth design makes it effortless to move dressers, sofas, and other bulky items without damaging your floors. Whether you are redecorating your home or just need to move some furniture to clean, Large Super Sliders are a wonderful choice. 
The easy-to-use design and durable materials make these sliders a reliable option for protecting your floors and moving your furniture. If you are looking for a solution to make furniture moving easier, give Large Super Sliders a try. 
d. Item Specifications
Universal rubber pads protect hard surface floors and countertops from damage by furniture and heavy objects
Can be used under a variety of items such as couches, chairs, tables, and appliances
Ribbed non-marking rubber bottom increases traction and reduces vibration and noise
Comes in a package of 4 universal 3-inch round rubber pads that can be trimmed to fit
Dimensions: 3 inches outside diameter, 2-3/4 inches inside lip holding area, 1/8 inch thick
V. MAGIC SLIDERS L P 4045 1-3/4″ Magic Slider, Blue, 4 Piece (Pack of 1) 
 Magic Sliders L P 4045 is a set of four blue-colored furniture sliders designed to make moving heavy furniture across hard surfaces easy and effortless. These sliders have a 1-3/4-inch diameter and easily fit most furniture legs. Installing them under furniture legs makes moving furniture effortless. The blue color of these sliders gives a pop of color to your furniture, making them an excellent choice for those who want to add a touch of style to their home. 
One of the best features of Magic Sliders L P 4045 is the innovative design that allows for the effortless movement of heavy furniture. The sliders are made from a special material that provides a smooth and quiet gliding experience. The material also helps to protect your floors from scratches, scuffs, and other types of damage caused by moving furniture. 
Another great aspect of these sliders is the fact that they are incredibly easy to install. Simply slide them under the legs of your furniture and you are ready to go. They can be used on hard surfaces such as hardwood floors, tile, laminate, and more. Once installed, they allow you to move furniture with ease, without having to worry about damaging your floors. 
e. Item Specifications
Made of plastic for durability

 

Easy to use and fits furniture legs 1-3/4″ in diameter

 

Durable, perfect for moving heavy furniture easily and without damaging floors

 

Comes in blue color

 

Manufactured in China.

 
VI. Waxman Consumer Group 4628195N 1-1/8″ White Domed Furniture Glides 4 Count 
The SoftTouch Nail-On Furniture Glides are an excellent solution for protecting hard floor surfaces from scratches and damage caused by furniture legs. This 4-piece pack is designed for use on one piece of wooden furniture and is the perfect choice for items with angled legs such as chairs. 
The glides feature a domed base that helps to ensure a solid grip and protect flooring, making them a smart choice for homes with ceramic tile, linoleum, and other hard floor surfaces. They are also easy to install, simply nail them onto the furniture legs and they are ready to use. 
High-quality, durable materials make these glides a great investment for your home. The SoftTouch brand, known for surface protection solutions, designed these glides to keep floors looking great and preserve furniture life. They will help to keep your floors looking great while also preserving the life of your furniture. 
f. Item Specifications
White color

 

Provides protection for ceramic tile, linoleum, and most other hard floor surfaces for wooden furniture items

 

Items with angled legs such as chairs

 

Easy to install, durable, and long-lasting surface protection solution.

 
5. How to Use Appliance Sliders Safely on Vinyl Floors
Using appliance sliders correctly is essential to ensure the safety of your appliances and your vinyl floors. Follow these steps for safe and effective use:
I. Preparation
Clean the vinyl floor surface and ensure it is free from debris or any small objects that could obstruct the sliding process. Inspect the appliance sliders for any signs of damage or wear before use.
II. Placing the Sliders
Position the sliders under the appliance's feet or base, ensuring they are centered and aligned properly. If using adhesive-backed sliders, remove the backing and firmly press them onto the appliance's feet.
III. Sliding the Appliance
With the appliance sliders in place, gently push or pull the appliance in the desired direction. Apply even pressure and avoid sudden jerks or movements that could damage the vinyl floor.
IV. Cleaning and Maintenance
After use:
Remove the appliance sliders from the appliance and clean them if necessary.
Wipe the vinyl floor surface to remove any debris or residue left behind by the sliders.
Regularly inspect the sliders for any signs of wear and replace them as needed.
6. Additional Tips for Protecting Vinyl Floors
In addition to using appliance sliders, here are some extra tips to protect your vinyl floors:
Place doormats or rugs near entryways to trap dirt, sand, or grit that could scratch the vinyl surface.
Avoid using harsh cleaning agents or abrasive tools that can damage the vinyl floor's protective layer.
Lift heavy objects whenever possible instead of dragging them across the floor.
Use furniture pads or coasters under furniture legs to distribute weight and prevent indentations.
By implementing these tips, you can maintain the longevity and appearance of your vinyl floors.
7. FAQs
I. Can I use any type of appliance sliders on vinyl floors?
A1. It is recommended to use appliance sliders specifically designed for vinyl floors. These sliders are made from gentle materials on the surface and provide optimal protection against scratches.
II. Do appliance sliders work on all types of appliances?
A2. Appliance sliders come in various sizes and shapes to accommodate different appliances. Ensure you choose sliders suitable for the size and weight of your specific appliances.
III. How do I clean appliance sliders?
A3. Depending on the material, you can usually clean appliance sliders by wiping them with a damp cloth or mild cleaning solution. Refer to the manufacturer's instructions for specific cleaning recommendations.
IV. Can appliance sliders prevent all types of damage to vinyl floors?
A4. While appliance sliders significantly reduce the risk of scratches and scuffs, they may not prevent all types of damage. It is important to follow proper usage techniques and consider additional protective measures.
V. Are appliance sliders reusable?
A5. Most appliance sliders are reusable and can be used multiple times. However, it is important to inspect them regularly for any signs of wear or damage and replace them if necessary.
Can I Use Appliance Sliders for Cabinet Hardware Installation?
When it comes to cabinet hardware installation, appliance sliders may not be suitable as they are designed for moving heavy appliances. For this task, it is recommended to use the right tools such as a drill bit for cabinet hardware review. This specialized tool allows for precise and efficient installation of cabinet hardware, ensuring a sturdy and professional finish.
8. Conclusion
Choosing the best appliance sliders for vinyl floors is crucial to protect your flooring investment and make moving heavy appliances a breeze. Consider material, size, weight capacity, and non-slip design when selecting the most suitable sliders for your appliances. Always use appliance sliders safely and follow the guidelines to avoid damage to your vinyl floors. By taking proactive measures and using the right tools, you can ensure your vinyl floors remain beautiful and pristine for years.
9. You may also like these posts!