A reliable glue gun is an indispensable tool in the vast world of crafting and DIY projects. With technology advancements, cordless glue guns have emerged as a favourite among enthusiasts and professionals, offering unparalleled flexibility and ease of use. From home decor projects to intricate art designs, these tools deliver precision and efficiency. This guide will delve into the best cordless glue gun for crafts in the market, offer insights on choosing the perfect one for crafts, and share some maintenance and safety tips. Whether you're a seasoned crafter or starting, this guide is for you.
| No | Product Name | Image | Specialty | Price |
| --- | --- | --- | --- | --- |
| 1 | Surebonder Cordless Hot Glue Gun (Specialty Series CL-800F) | | Best Overall Performance | Check Price |
| 2 | WORKPRO Cordless Hot Melt Glue Gun | | Best for Quick Projects & Safety | Check Price |
| 3 | Ryobi P305 One+ 18V Lithium Ion Cordless Hot Glue Gun | | Best for Experienced Crafters | Check Price |
| 4 | BLACK+DECKER 4V MAX Cordless Glue Gun, USB Rechargeable (BCGL115FF) | | Best for Portability | Check Price |
| 5 | KeLDE Cordless Hot Glue Gun Kit | | Best for Precision Work | Check Price |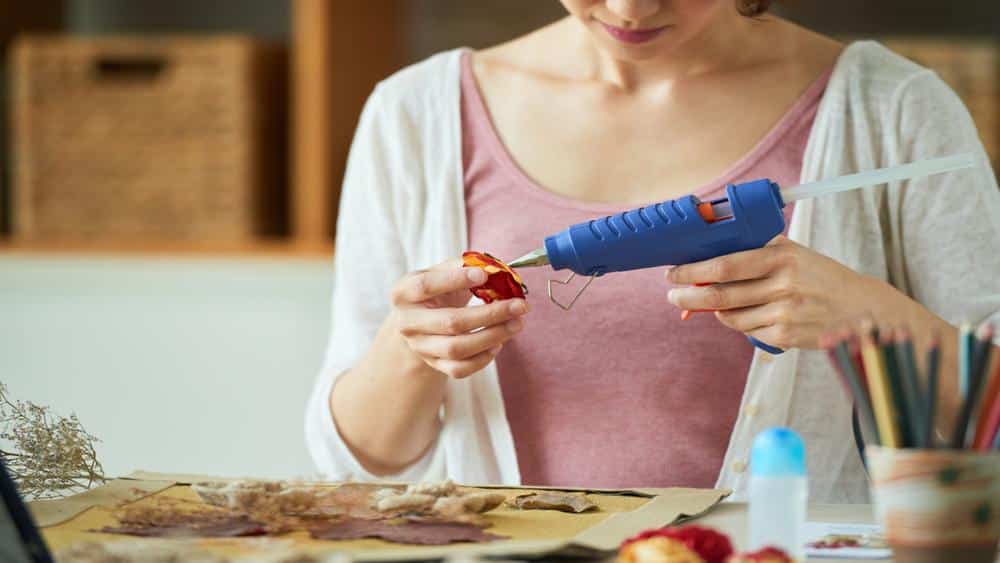 1. Introduction 
Cordless glue guns are an excellent tool for any craft or hobby project. Whether you're making model cars, dolls, or clothing designs, having the right glue gun will make all the difference. But with so many options on the market, how do you find the best cordless glue gun for your specific needs? In this article, we'll look at the features to consider when choosing a cordless glue gun and some of the top-rated models on the market. By the end, you'll have all the information you need to make an informed decision and find the perfect glue gun for your craft projects!
Overview of Glue Guns
Glue guns are a staple in the toolbox of any DIY enthusiast or crafter. They are handheld devices that heat and melt adhesive sticks, allowing the glue to be precisely applied to various surfaces. Glue guns come in corded and cordless versions, providing greater flexibility and mobility. They can accommodate glue sticks of varying sizes, with the most common diameter being 7mm and 11mm.
Typically, glue guns operate at either high or low-temperature settings, with high-temperature guns being suitable for bonding more robust materials like wood or metal and low-temperature options being safer and ideal for delicate materials such as fabric or paper. Common features to look out for when purchasing a glue gun include heating time, glue output per minute, and safety features like an auto shut-off function.
Importance of Glue Guns in Crafting
The significance of glue guns in crafting cannot be overstated. They offer precision and control that is unmatched by traditional glue applicators, enhancing the quality of the finished product. A glue gun is the cornerstone tool, from creating intricate jewellery pieces to accomplishing detailed work in scrapbooking or doll making.
The quick-drying nature of the glue ensures that crafters can work efficiently without having to wait for the glue to dry, accelerating the completion of projects. Cordless models add convenience, allowing for seamless movement and operation, especially when working on larger or more complex pieces. Therefore, a high-performing cordless glue gun is an investment that can significantly elevate the crafting experience.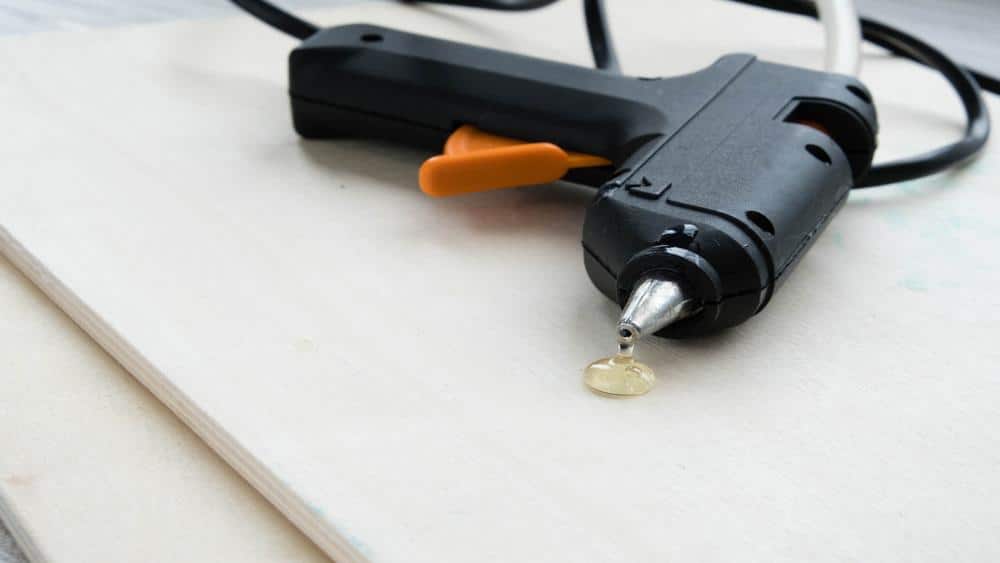 2. Features of a Good Cordless Glue Gun
When evaluating the best cordless glue gun for your crafting needs, there are several vital features to look for.
Battery life
One of the most crucial characteristics of a cordless glue gun is its battery life. This refers to how long the glue gun can operate on a single charge before needing to be recharged. A longer battery life allows for uninterrupted work, particularly important for larger or more complex projects. However, longer battery life often comes with a trade-off in weight, as bigger batteries tend to be heavier.
Therefore, when considering battery life, you should balance your need for extended use with the comfort of handling the glue gun. Some cordless glue guns also feature removable batteries, which can be a convenient option as you can have a charged spare battery ready to swap in when needed.
Heating Time
The heating time is another essential feature to consider when selecting a cordless glue gun. This is how long the glue gun takes to heat up to its operating temperature after being switched on. The best cordless glue guns should heat up rapidly, preferably within a few minutes, to keep your workflow uninterrupted.
Quick heating times allow you to work immediately, increasing your overall productivity and efficiency. It's crucial to remember that a faster heating time should maintain the performance and safety of the glue gun. Therefore, a reliable cordless glue gun should have an efficient heating mechanism that provides quick heating times while maintaining safe operating temperatures.
Ergonomic Design
The ergonomics of the glue gun is another crucial factor to consider when making your purchase decision. An ergonomic design ensures the tool is comfortable to hold and use, preventing strain and fatigue during prolonged use. Look for models with a comfortable grip, preferably with a rubber or soft material covering the handle for added comfort. The trigger should be easy to press, and the overall balance of the gun should feel right in your hand.
It's also helpful if the glue gun is lightweight, which makes it easier to manoeuvre, especially for intricate or detailed work. Some models even come with a stand to hold the gun when it's not in use, which can help prevent accidental burns or glue spillage. Remember, a well-designed, ergonomic glue gun can significantly enhance your crafting experience, making it more enjoyable and efficient.
Safety Measures
While glue guns are relatively safe tools, they must be aware of the potential risks and adhere to specific safety measures to avoid accidents or injuries. Always keep a safe distance from the tip of the glue gun, as it becomes extremely hot during operation. Make sure to place your cordless glue gun on its stand or lay it on a heat-resistant surface when not in use to prevent accidental contact with the hot tip. Avoid touching the melted glue directly, as it can cause burns.
Keep a bowl of cold water nearby to dip your fingers in case of accidental contact with hot glue. Also, ensure to unplug or switch off the glue gun when not in use. If the glue gun is malfunctioning or overheating, stop using it immediately and seek professional assistance. Lastly, store the glue gun in a safe and dry place out of children's reach after it has cooled down completely. By adhering to these safety measures, you can ensure a safe and fun crafting experience.
Material Compatibility
An often overlooked yet crucial aspect to consider when choosing a cordless glue gun is material compatibility. Different glue sticks are designed to bond different materials, and not all glue guns can accommodate every type of glue stick. It's essential to ensure that your glue gun is compatible with the glue required for your specific crafting projects. For example, you frequently work with materials like fabric or paper.
In that case, you'll want a glue gun that can safely use lower-temperature glue sticks. Conversely, if your projects involve heavier materials like wood or metal, a glue gun capable of using high-temperature glue sticks would be more suitable. Always check the manufacturer's guidelines for recommended glue sticks and material compatibility to ensure your cordless glue gun will meet your crafting needs.
3. Top 5 Cordless Glue Guns for Crafts
Choosing the right cordless glue gun for your crafting needs involves consideration of several factors. Here are some tips to guide you:
I. Surebonder Cordless Hot Glue Gun (Specialty Series CL-800F)
The Surebonder Cordless Hot Glue Gun is ideal for craft, floral, and do-it-yourself projects. This high-temperature model will bond metal, wood, ceramics, leather, and other strong materials with its full size and 50% more power than other models. The ergonomic design fits comfortably in the hand as you work, and the extra safety features ensure your project can be completed without distraction.
Surebonder Cordless Hot Glue Gun features an On/Off switch and has a 60W insulated nozzle for better precision and the included stand for when it's not in use. You can use it cordless with its base between applications or plug it into the base for continuous use should you need it. Use standard 7/16 diameter glue sticks in 4-inch or 10-inch lengths to ensure every job looks perfect!
II. WORKPRO Cordless Hot Melt Glue Gun
The WORKPRO Cordless Hot Melt Glue Gun is perfect for any DIY, art, craft or decoration project. It features a quick preheat time of only 2 minutes and an automatic power-off system that automatically turns off after 5 minutes of idle, allowing you to save energy and stay safe. It also has an impressive 2600mAh premium lithium-ion battery that can work for up to 100 minutes straight.
When dispensing glue, this gun has you covered with its fast speed of 0.18oz/5g per minute compared to 0.07oz/2g for regular glue guns. You'll also receive 20 Pc Premium Glue Sticks (0.28 inches x 4 inches/7mm x 100mm). With its flame-retardant surface, you don't have to worry about burning yourself and with its quick charge time of just 2 hours, you can get your next project done in no time!
III. Ryobi P305 One+ 18V Lithium Ion Cordless Hot Glue Gun
The Ryobi P305 One+ 18V Lithium Ion Cordless Hot Glue Gun is perfect for all your glue needs. With its two-finger trigger, you can have maximum control over the glue stream, so you can tackle any job that comes your way. An LED indicator light also lets you know if the gun is active, helping ensure no one gets burned by the tool's hot adhesive. For a longer run time, this glue gun comes with a 4 amp hour battery and can run up to three and a half hours without recharging.
The micro hex texture rubber grip on other Ryobi products makes this hot glue gun comfortable and easy to use in slippery situations while providing precise control. Plus, its compatibility with Ryobi's 18V lithium ion and NiCad batteries means you won't need to buy a new battery just for this glue gun. Overall, the Ryobi P305 One+ is an essential tool for anyone needing reliable and high-quality glue work done quickly and safely!
IV. BLACK+DECKER 4V MAX Cordless Glue Gun (BCGL115FF)
Suppose you're looking for a robust and reliable craft tool with the added convenience of being cordless. In that case, the BLACK+DECKER 4V MAX Cordless Glue Gun is precisely what you need. Whether crafting cards, making decorative objects or doing light DIY tasks, this glue gun is perfect for any project.
An in-built LED light and self-standing base for stability allow you to work comfortably no matter where you are. And getting ready to use takes less than 30 seconds* so you can start working quicker than ever. Plus, with up to 25 minutes of runtime** included per charge and 20 minis (7mm) glue sticks sold, your creativity will be able to soar! The BLACK+DECKER 4V MAX Cordless Glue Gun is perfect for all your crafting needs.
V. KeLDE Cordless Hot Glue Gun Kit
The KeLDE Cordless Hot Glue Gun Kit is the perfect tool for any DIYer or crafty person who needs precision and convenience. With its revolutionary 30-second pre-heat time and 170℃/338℉ glueing temperature, it's sure to make projects more accessible and faster than ever. The built-in lithium-ion battery is rechargeable via a USB cable or plug (voltage not exceeding 5V or current not exceeding 1000mA).
The fine tip nozzle with cover makes it safe even for kids to use for small arts and crafts projects and repairs for smaller items such as furniture, household appliances, toys, shoes, glass fish tanks, circuit boards, etc. The LED indicator lights let you know when the glue gun is ready or if it's low on battery. It also includes 20 pcs of 20 0.6×0.27″ hot glue sticks so that you can start immediately! Get your KeLDE Cordless Hot Glue Gun Kit today and create more significant projects with ultimate precision!
Discover the ultimate solution for sticker removal with our in-depth guide and reviews on the "Best Heat Gun to Remove Stickers: Reviews, Guide" Take it!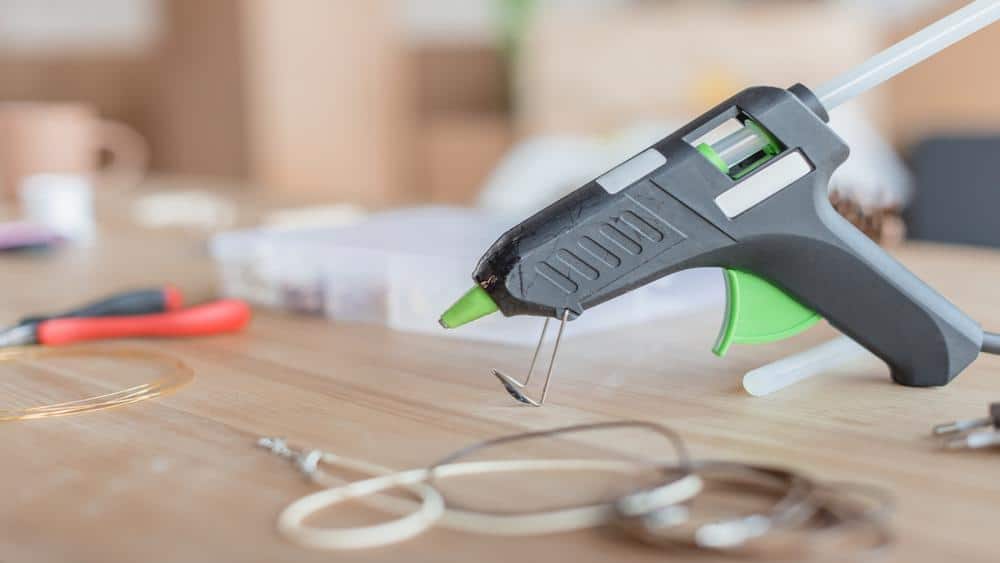 4. How to Choose the Right One for Crafts
Choosing the right cordless glue gun for crafts can be daunting, especially given the variety of options available. However, by focusing on a few key features, you can simplify the process and make an informed decision:
Type of Projects: Consider the kind of projects you undertake. A low-temperature glue gun is ideal for delicate materials like lace or ribbon. Opt for a high-temperature glue gun for heavier materials like wood or metal.
Frequency of Use: How often do you plan to use the glue gun? If you're a regular crafter, find a robust model with a long battery life. Occasional hobbyists may be satisfied with a simpler, less expensive model.
Comfort and Ease of Use: Comfort is paramount, especially for extended crafting sessions. Look for a lightweight, ergonomically designed glue gun. Features like trigger propulsion can help reduce hand fatigue.
Power Source: Cordless models offer more flexibility, but it's essential to consider battery life. How long does it take to charge, and how much work can you get out of a single charge?
Glue Stick Size: Glue guns generally accommodate 1/2″ or 5/8″ diameter glue sticks. Smaller-diameter sticks are suitable for intricate work, while larger ones are better for larger projects.
Brand Reputation: Consider purchasing from a reputable brand. Review online reviews and ratings to understand the product's reliability and performance.
Remember, the "right" glue gun suits your crafting style and needs. Considering these factors, you will be well-equipped to make the best choice for your crafting projects.
5. Maintenance and Safety Tips 
Properly maintaining your cordless glue gun can extend its life and ensure it functions optimally every time you use it. Here are some simple maintenance and safety tips to follow:
Clean Regularly: After each use, clean off any residual glue from the nozzle once the glue gun has cooled down. This helps prevent clogging and ensures a smooth glue flow for your next use.
Store Properly: Store your glue gun in a dry, cool place to prevent any potential damage caused by moisture or heat. Also, remember to remove any glue sticks left in the gun before storage to prevent it from hardening and causing future issues.
Use the Right Glue Sticks: Always use the glue stick the manufacturer recommends. Using incompatible glue sticks can cause damage to the gun and also compromise the quality of your craft projects.
Handle with Care: Even though glue guns are robust, they should be handled carefully to avoid accidental drops that can damage the internal components.
Safety is paramount when using any tool, and glue guns are no exception. Here are some safety tips to remember:
Never Touch the Nozzle: The nozzle of the glue gun gets extremely hot. Always avoid touching it and keep it away from flammable materials.
Use a Stand: Always place your glue gun on its stand or a heat-resistant surface when not in use. This helps to prevent accidental burns or damage to surfaces.
Supervise Children: If children use the glue gun for their craft projects, always ensure an adult supervises them.
Avoid Long Exposure to Skin: In case of accidental contact with hot glue, avoid prolonged exposure to the skin. Always have a bowl of cold water nearby to cool the area immediately.
Following these maintenance and safety tips ensures that your cordless glue gun lasts for many years and that your crafting activities are always safe and enjoyable.
6. Frequently Asked Questions (FAQ)
What Are the Best Glue Sticks for Crafts?
When it comes to crafting, not all glue sticks are created equal. The "best" glue stick for your craft project largely depends on the materials you're working with and the type of bond you require. Here are a few recommendations for high-quality, versatile glue sticks perfect for a variety of craft projects:
Gorilla Hot Glue Sticks.
Ad-Tech Multi-Temp Glue Sticks.
Surebonder DT-25 All-Temp Glue Sticks.
Elmer's CraftBond Glue Sticks.
Artellius Mini Hot Glue Sticks.
Remember, always refer to your glue gun's manufacturer guidelines for compatible glue stick sizes and types to ensure optimal performance and longevity of your tool.
Is Craft Glue Better Than Hot Glue?
The choice between craft glue and hot glue depends mainly on the nature of your project. Craft glue is a versatile adhesive often used for paper, fabric, and lightweight materials. It tends to dry clear, making it perfect for projects where you don't want visible glue lines. However, craft glue can take longer to dry, sometimes needing several hours or overnight.
On the other hand, hot glue is applied using a hot glue gun and is excellent for quick fixes and heavier materials like wood or metal. It dries and bonds quickly, often within a few minutes, but the adhesive is typically more visible. It can also be less effective on smooth, non-porous surfaces.
In summary, neither is universally "better" than the other. Instead, the best choice depends on the specific requirements of your craft project – the materials you're using, the strength of the bond you need, and how quickly you need the glue to dry.
What is the Strongest Hot Glue Stick?
The Gorilla Hot Glue Sticks stand out as a robust choice regarding strength and durability. Known for their exceptional holding power, these glue sticks create a bond that can withstand indoor and outdoor conditions. This makes them excellent for crafts involving heavier materials like wood, plastic, or metal.
Their superior adhesion capability and weather-resistant feature make Gorilla Hot Glue Sticks a favored choice among crafters seeking the most robust hot glue stick option. However, as with any tool or material, it's essential to consider your specific project requirements while selecting the right glue stick.
Is Hot Glue Permanent?
Hot glue is not permanent and is considered a semi-permanent adhesive due to its flexibility. While it forms a strong bond, hot glue can be removed without causing damage to the materials it's adhered to. It's beneficial for temporary fixes or crafts where the bond does not need to withstand heavy stress or outdoor conditions.
However, remember that the bond created by hot glue is quite strong, so if the glue is applied to a delicate or thin material, removing it may cause some damage. If you need more clarification, it's always best to test a small area first.
Which is the Better Option: Manual Caulking Gun or Cordless Glue Gun for Crafts?
When deciding between a manual caulking gun and a cordless glue gun for crafts, it's essential to consider the factors that suit your needs. For those looking for precise control and versatility, manual caulking guns provide reliable results. However, the convenience and portability offered by cordless glue guns make them a popular choice. To make an informed decision, exploring the best manual caulking gun reviews can provide valuable insights.
7. Conclusion
In conclusion of best cordless glue gun for crafts, crafting with a cordless glue gun can be exciting, versatile, and rewarding for crafts, provided you have the proper knowledge and tools. From understanding the essential maintenance and safety tips to selecting the appropriate glue gun and glue sticks for your craft projects, each aspect is crucial in ensuring a delightful crafting experience. Remember, the key lies in identifying your needs and choosing products tailored to those requirements. Happy crafting!